PICHA: DIAMOND NA ZARI WACHAFUA MITANDAO KWA KUPOST PICHA ZA HARUSI?. JIONEE HAPA
Kwa imani ya watu wengi, huenda kuanzia Ijumaa ya leo, Zari ni Mrs Naseeb rasmi!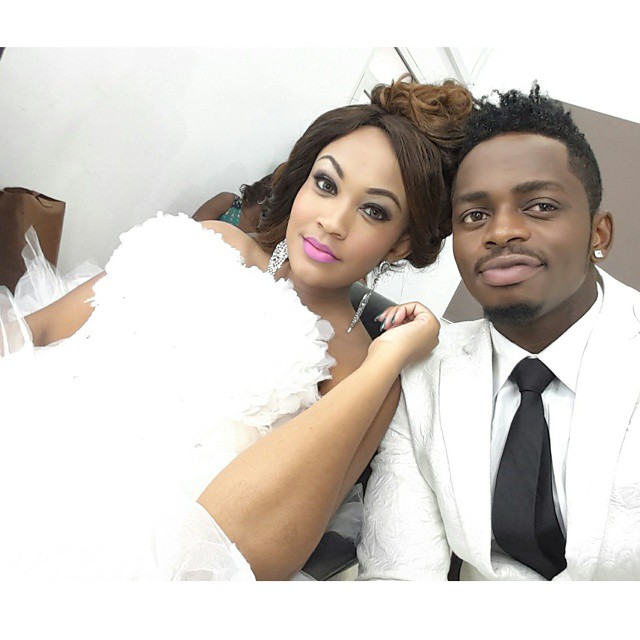 Apparenty wawili hao wamefunga ndoa kimya kimya ama kuchumbiana – ofcourse kwa mujibu wa picha aliyopost Diamond kwenye Instagram usiku huu.
"Wakati Mwingine Usiri Unabaraka zaidi…. Alhamdulillahemoji (Sometimes Privacy has more Blessings… Thank you so Much God," ameandika Diamond kwenye picha hiyo.
So ni ndoa ama ni engagement tu? Kila mtu anaweza kuwa na jibu lake kwakuwa Diamond hajasema chochote zaidi ya kuandika ujumbe wa kawaida unaoweza kuashiria kitu chochote! Hajasema wamefunga ndoa si ndio? Japo uwezekano wa kitu kama hicho si mgumu kwao, kwetu sisi tuna majibu tofauti!
Tunahisi hakuna ndoa, hakuna engagament. Okay, ngoja tukuamshe! Unakumbuka kuwa Zari atakuwa na show ya Ciroc Allwhite Party May 1, Mlimani City? Well, huenda picha hiyo ambayo wote wawili wanaonekana wakiwa kwenye mavazi meupe ikawa ilipigwa maalum kwaajili ya picha za promotion ya show hiyo.
Ukiangalia ukurasa wa Zari kwenye Instagram utakutana na picha ambayo anaonekana alikuwa akifanyiwa make -up kwaajili ya photoshoot. Kwenye picha hiyo chini, Zari aliandika:

"Keep trusting, keep hoping, keep believing. The miracle that seems like it might never arrive can happen literally overnight. Happy Holidaysemoji#PhotoShootMakeUp."
Iangalie vizuri picha hiyo. Angalia make –up yake hasa wanja na lipstick yake ya zambarau! Angalia na picha hiyo juu akiwa na Diamond. Utagundua kuwa picha hizo zilipigwa siku moja na zote zilikuwa ni kwaajili ya photoshoot.
Ni photoshot ya nini? Jibu la uhakika, ni photoshot kwaajili ya promo ya All White Party!
Yote yalianza hapa si ndio?
Kwakuwa asilimia kubwa ya watu wanajua kuwa Diamond na Zari wamefunga ndoa, sio wote waliofurahi. Adui namba moja wa Uganda wa hitmaker huyo wa 'Nasema Nawe' King Lawrenc, amepost picha hiyo na kuandika 'Diamond's biggest mistake'.
Hii ni showbiz guys, usiamini kila unachokiona!
Mhh! Acha movie liendelee!